One of the main benefits of a new build home is that every aspect is essentially 'untouched'. Therefore, if you're the proud owner of a new build you'll be the first person to reside in that property and make it your own.
Similarly to the interior of the home, your new build garden and exterior will have the same pristine and untarnished look. However, this could mean that a multitude of sins are hiding underneath. That's why it's essential assess your plot of land carefully before making any changes.
Fortunately, we're here to help. We're providing our simple, yet effective new build garden design tips and tricks to help you get the garden of your dreams.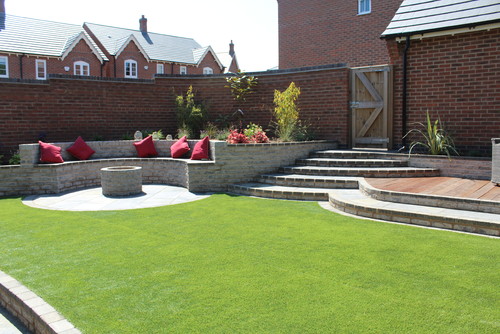 Assess your site before adding any personal touches
As mentioned above, your new build garden may look pristine, however, this could be a façade hiding structural problems that are lying underneath. That's why essential that you carry out a thorough site assessment to uncover any potential problems early on.
Make sure to inspect the lawns, trees and shrubs in and around your garden, and also be sure to inspect these aspects again in the rain, sun and snow. This will help you to identify potential problems such as waterlogging, and this can help you to create a practical plan of the tasks that need to be done.
Replace subsoil with high-quality top soil
If you want to transform your garden from a blank canvas into a bounty full of plants and flowers, you'll need to make sure your garden has the right soil type to maximise grow tent kits.
In many cases, the soil in new build gardens is not of a high enough standard to support plant growth, or there is only a thin layer of soil on top of rubble or debris. This will vary from home to home, but if you find that this is the case, it's best to cultivate the soil to prepare it for your new plants.
Plan your garden design
Planning your garden design is key to ensuring you achieve your desired look. This will help you to see where your features and shrubbery will fit, and you can work around drains and sewers.
You can do this by using a blank piece of A4 paper and completing a to-scale drawing of your garden space. Then, you can use this as a guide to see where you will fit your garden features.
On the other hand, you may want to employ a professional garden designer for a helping hand. This will give you peace of mind that all physical constraints have been accounted for, and that you will achieve your desired style.
Once you've put these simple tips to action, you'll have all the tools you need to transform your existing landscape into a garden that will fill your neighbours, families and friends and with envy. For more helpful hints for your new home, visit the Anwyl Homes blog for our expert advice.