California plantation shutters are a top-selling custom window treatment that is stylish, yet practical. Quality plantation shutters often add value to a home. In the past, large Southern plantations utilized wide louvers which ultimately provided the genesis of this shutter's name. Plantation shutters have an additional "green benefit' – reducing energy expenditures for those wishing to minimize their carbon footprint and their monthly expenses! A California plantation shutter is sturdier than its distant cousin -The Venetian Blind – but never relinquishes the ability to maximize lighting options and air flow.
California Plantation Shutter – Product Options
California plantation shutters are available in assorted materials and styles; each offering unique benefits. Traditionally, as well as today, shutters were made from wood, however, synthetic materials are available as well. While "shutter traditionalists" consider the wooden shutters most suitable, the sophisticated synthetics of contemporary manufacturing remarkably recreate a cost-effective alternative for those operating within a tight budget. Additionally, it's important to clarify if the plantation shutter you are buying is truly custom-built to your window's dimensions or, if the shutters will be cut to fit from standard stock panels.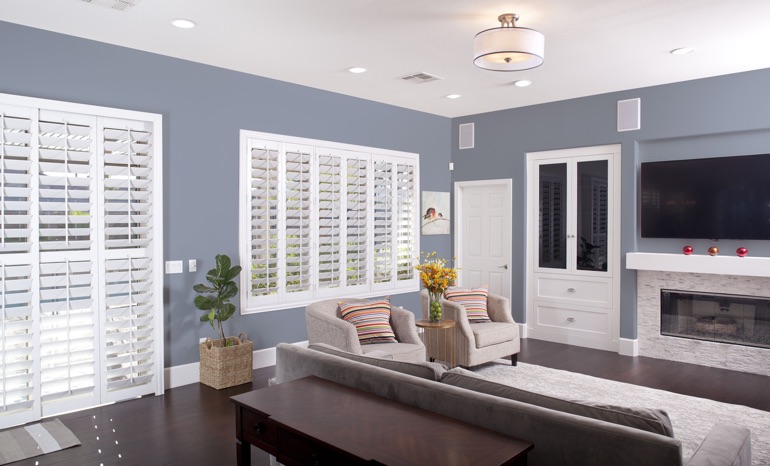 Shopping for California Plantation Shutters
The following is a helpful guide to use when shopping for shutters.
Identify your exact needs.
Determine the available budget to meet these defined needs.
Decide how the plantation shutters are to be mounted.

They can easily be mounted inside or outside the window's molding.
They can be mounted in a movable or stationary fashion.d
They can be mounted on the bottom portion of a window exclusively to allow for natural light and privacy.
Louvers on one panel of the shutter can open simultaneously with its corresponding mate, or independently of each other.

Determine the size of the louver. The smallest size louver is generally between 1 ½ and 2 ½ inches wide. However, they are available as large as 4 ½ inches wide. The size of the louver is strictly a personal decision.
2 ½ inch louvers are most often seen in homes with traditional décors.
3 ½ inch louvers have grown in popularity because they offer a traditional look with a grander impression.
4 ½ inch louvers are best to use on large windows or windows with striking views. The larger sized shutters create visibility that is 108% greater than the 2 ½ inch louvers.
Select the color of the shutter you wish to buy. There are many finishes and colors from which to choose.
The Take-away…
Over the past 23+ years, Bay Home and Windows has earned their reputation as an award-winning industry leader; setting the standards for the next generation of custom window products and built-in organizational systems. And, in the process, Bay Home and Windows has earned a customer service rating of A+ from the Better Business Bureau – for eleven consecutive years!
Bay Home and Windows offers the Bay Area's largest selection of plantation shutter materials, construction, and prices. Call 800-701-4555 for a no-cost in-home consultation with one of our design experts.